Improve Your Home with Luxury Vinyl Planks in Ardmore, OK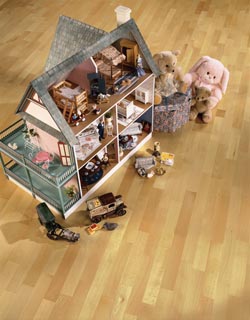 It's time to rethink your interior design. Let Cunningham's Flooring America be your guide. We are a leading supplier of luxury vinyl planks in Ardmore, OK. At our showroom, we empower homeowners to take their projects in new and exciting directions. With our robust catalog and personalized approach to service, you remodeling options are nearly limitless.
The Benefits of Luxury Vinyl Flooring
Advances in technology and manufacturing have provided sturdy flooring material that will look great and last long. Luxury vinyl planks, also known as LVP, are a popular choice for today's homeowners. Striking a good balance between form and function, these floors look beautiful while remaining tough and resilient. There are many benefits to choosing this flooring, including:
Aesthetic Appeal: LVP brings the beauty of Nature to any room in your home. These planks are crafted to have the appearance and texture of natural hardwood floors. Now, you have the opportunity to establish the majesty of oak, pine, and other wood species in any room you like, including moisture-prone spaces like the basement.
Everyday Strength: Floors face much wear and tear over time. With luxury vinyl, you will improve the strength of your interior for the long haul. This flooring incorporates composite materials, which allow this flooring to face the rigors of daily life handily. LVP flooring resists impacts, foot traffic, bumps, and scrapes with ease.
Ease of Maintenance: Luxury vinyl flooring is highly resistant to water. Liquids and water have a hard time staining this material's surface. With its innate ability to repel spills, dust, and dirt, you will find luxury vinyl easy to clean and maintain. Now, you will spend less time and energy cleaning, and instead, do more of what you enjoy.
With its wide array of design options and built-for-life composition, there is little wonder why so many homeowners are choosing luxury vinyl plank floor. There are many other benefits to this flooring, such as its sound dampening capabilities and ease of installation. If you're still deciding on which flooring is best for your needs, simply turn to one of our knowledgeable associates. We'll provide an in-depth consultation and be your re-flooring guide.
Professional Installation Available
You deserve picture-perfect interiors that will stand the test of time. Ensure the strength and appeal of your property and let us put on the finishing touches. We have an in-house team available for luxury vinyl plank floor installation. Whether you are re-flooring a single space or conducting a total home makeover, you have our support. We work quickly and carefully, making your home look its best.

Contact us to learn more about our selection of luxury vinyl planks. We proudly serve customers in Ardmore, OK, including Lone Grove, Dickson, Wilson, Marietta, Healdton, and the surrounding area.