Laminate Flooring in Ardmore, OK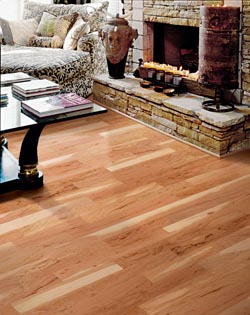 Enhance the value and appeal of your home with new laminate flooring from our expansive showroom. We make it easy and affordable to find the new laminate wood and tile flooring that best fits your needs in looks, performance, and price. With a broad array of colors, multidimensional textures, and sizes to choose from, the only limit to your design horizon is your imagination.
Find the right laminate flooring for your home with the help of our friendly sales associates. Getting the right laminate floors for your home is easy when you work with a specialist with your best interest in mind. Bring in any samples you may have to go with your design plan, and let our team locate the flooring choice that matches it perfectly. Or, take advantage of our in-home service.
Get a flooring choice that matches your lifestyle, and take advantage of our laminate flooring installation team to get the right fit in your home. Our focus on your complete satisfaction, so we support you at every step of your home improvement process to ensure you get the right product for the best price.
Laminate Wood Flooring That Fits Your Lifestyle
Add the warmth and appeal of traditional hardwoods without the expense by choosing floors from our selections of laminate wood flooring. Wood floors are a great addition to any room, but many environments with moisture and temperature changes are better served by laminates.
This innovative approach to laminate floors is made from pressed woods, and is better able to withstand the traffic that comes from an active household with pets and children. This choice in flooring also helps you expand your design horizon when you consider the savings involved.
The Benefits of Laminate Tile Flooring
Introduce an air of sophistication and style to any bathroom or kitchen with our stylish and durable laminate tile flooring. Replace the old and worn-out flooring in your favorite rooms with this cost-effective option that is easy to clean and easy to install. Laminate tile flooring enables you to add value and charm to your home without spending a fortune in the process. With individual laminate tiles, it becomes easy and affordable to repair any damage that should occur. Just replace the individual tile and your floors look as good as new.
The Versatility of Laminate Floors
Entice new customers into your place of business when you replace your existing flooring with our new laminate floors. Choose a classic or modern look with new floors that will upgrade the look and style of your premises. Whether you are renovating your existing home, or finishing construction on a new facility for your business, the appeal and value of laminate floors is a winning combination. Make a lasting first impression with the flooring you choose by visiting our showroom today.
Professional Laminate Flooring Installation
Protect the investment you are making in a new home or business by taking advantage of our professional laminate flooring installation team Only an experienced flooring professional has the right tools to get the best fit in your home.
Each and every space is different, and getting the right fit can save you money in the long run. Avoid the needless costs that come from water damage and peeling when you get your laminate flooring installation done right the first time.

Contact us for a free estimate on the cost of affordable new laminate flooring for your home or business. We proudly serve customers in Ardmore, Oklahoma, and surrounding communities.