When it comes to predicting style for "below your feet" fashions, look around at other styles in interior design, like furniture. Curves are in for 2023 from furniture to the floor.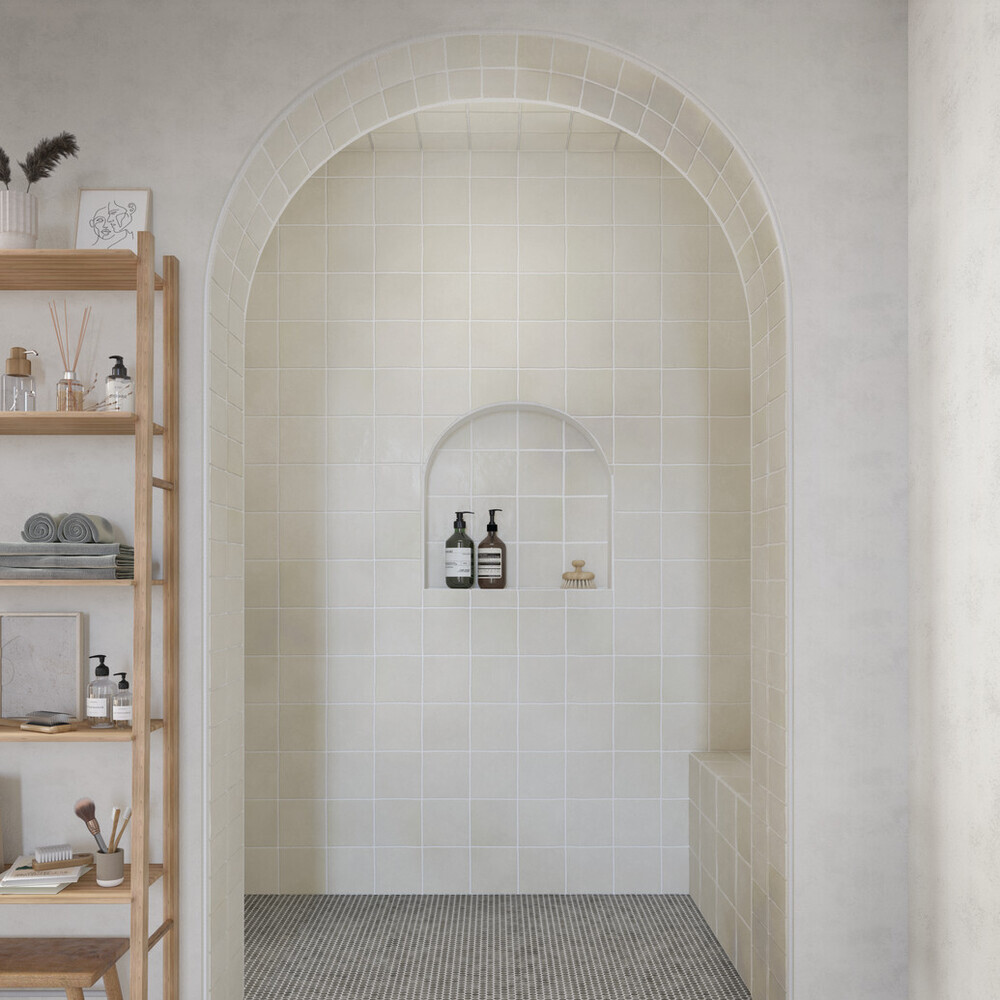 Farrier Res Tile by Daltile
"We're moving away from crisp, straight lines and are adding curved furniture pieces and interior archways. We have seen this trend in Europe for a while now," said Lisa Kooistra, of Kooistra Designs in Ontario. "Curved furniture has the same effect, because these pieces add interest and can be placed organically in an interior. This style was made famous by mid-century modern furniture designer Vladimir Kagan, who created the iconic Serpentine sofa in 1950. These sofas are largely referred to as conversation sofas or crescent sofas. They are not only meant for snuggling and watching TV, but also for cultivating aesthetic pleasure and conversation."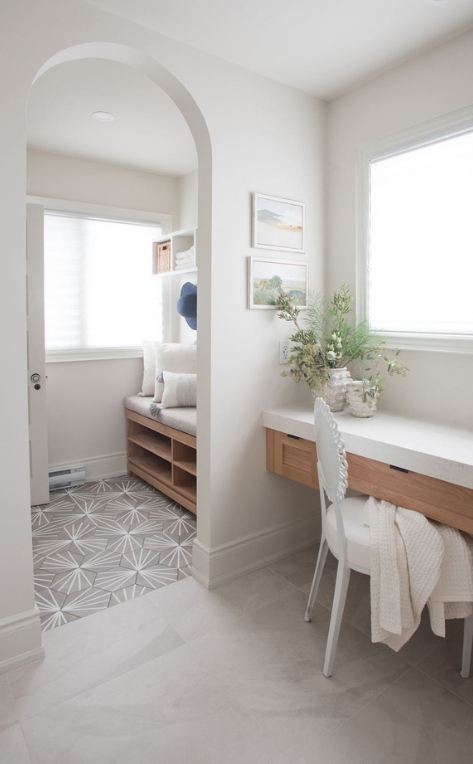 Design by LISA KOOISTRA Photography by BLYNDA DACOSTA
Curves in Interior Design
Curved elements in interior design can be beautiful in a multitude of ways, from their organic anfloord flowing feel to their ability to add energy to a space. By incorporating curves into your interior design and your floor, you can create unique and striking spaces that are both functional and aesthetically pleasing. Especially if you feature natural curves in your interiors, you can amplify the effects that this design trend has on your room.
Curves in Carpet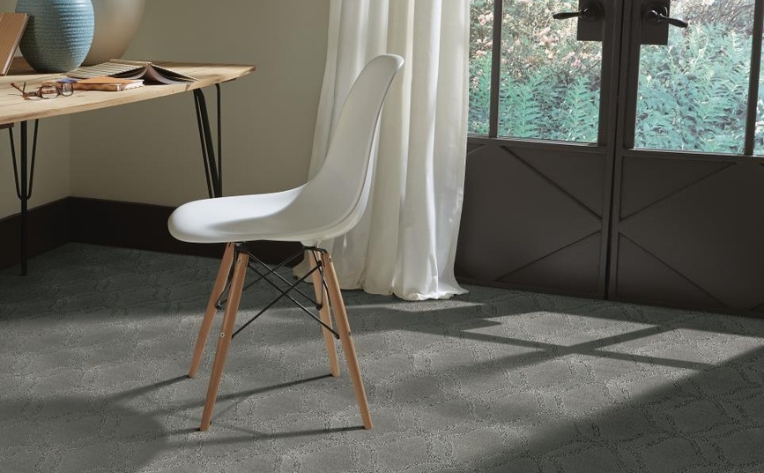 Why Me by Tigressa Cherish in Foggy Day
Choosing a carpet with curves design versus straight lines can help soften the look of a space and make it nice and inviting, especially if the rest of your apartment or home features a sharp line and edge. Not only that, but the sweeping lines of curved carpet adds visual interest and texture to a space, making it more visually appealing as a result.
With a soft textured pattern carpet, you can implement a curved design into your interior design that does all of the above and more. Browse our extensive carpet catalog at Flooring America and filter out your selection by pattern to find a sophisticated look to match your curved design.
Curves in Tile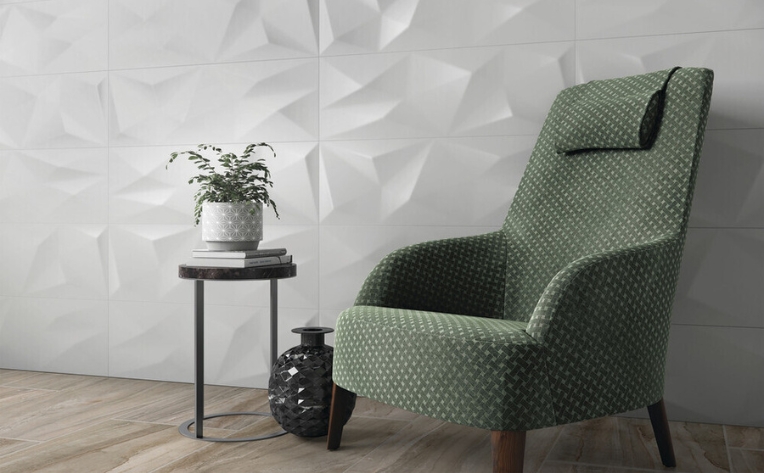 Aesthetic Geometric by Daltile
Curved tiles can add texture and dimension to a space, as the curves create shadows and highlights that give the surface depth. This can be especially effective when using tiles with a glossy or reflective finish, which can enhance the play of light and shadow.
This can be seen in the Aesthetic Geometric wall tile, which features organic, natural visuals with structured geometric textures that create a sense of movement and flow in a space, as the eye follows the curves along the surface.
Curves in Luxury Vinyl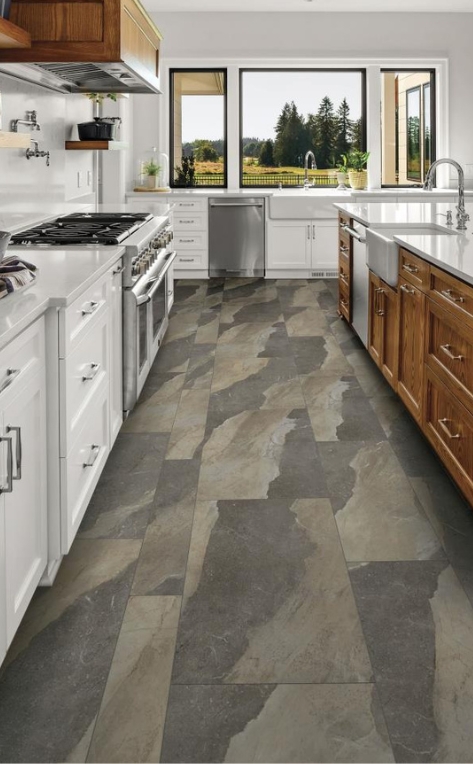 Malamute Fjord Multi Width by Room to Explore
Curves in luxury vinyl can add a touch of elegance to a space, while also providing practical benefits such as durability and ease of maintenance. By incorporating the trend of curved luxury vinyl planks into your interiors, you can create a unique and visually striking space that is both functional and beautiful.
With a marbled luxury vinyl tile, you can show off the beauty of natural stone with curved detailing in its unique pattern. Plus, reap the benefits of luxury vinyl with spill-, stain-, and scratch-resistance.
Curious to know more about the top 2023 flooring trends? Explore our blog and get the latest design inspiration!